OVERVIEW
Adelaide Central Plaza is a world class retail destination in the heart of the Adelaide CBD. The Centre combines superior design with a premium retail offer.
Adelaide Central Plaza is home to Australia's premier department store David Jones and over 40 International and Australian specialty retailers. The Centre occupies an enviable position on Rundle Mall one of Australia's premier retail strips, directly parallel to the iconic Malls Balls sculpture, a major tourist destination and meeting place.
Key retailers include a large alliance of iconic and international brands David Jones, Tiffany & CO, Pandora, lululemon, The Body Shop, Cue, Veronika Maine, Endota Spa, Solid Gold Diamonds, Calibre, Bed Bath N Table and The Optical Superstore.
The Centre is open 7 days and offers free Wi-Fi for customers.
Tenants: 40+ Stores
GLA: 27,800m2
Annual Customer visits: 4 million
MAT (as at December 2019): $144.6M (including GST)
Main trade Population: 428,500
Car parking spaces: 2,800+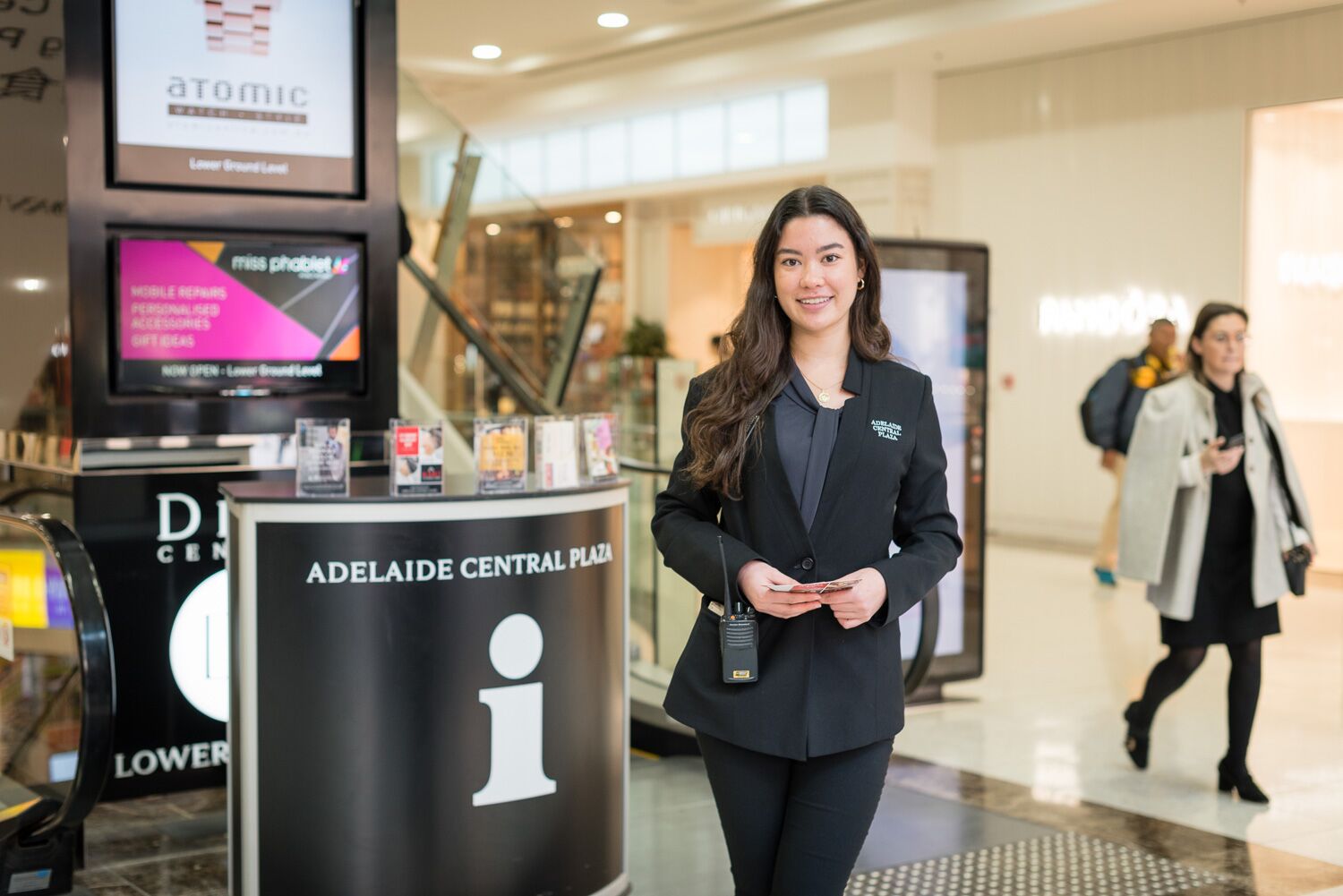 PRIME LOCATION
Adelaide Central Plaza is positioned in Rundle Mall - the State's premier shopping precinct, and one of the busiest malls in Australia, attracting more than 400,000 visitors and locals each week. Adelaide Central Plaza is central to the arterial traffic flow between the three central Rundle Mall carparks, which provide in excess of 2,800 secure parking bays. The Centre adjoins Wilson Carpark, the largest public carpark in the CBD with 1,200 spaces, with direct access into David Jones first, second and third floors.
Rundle Mall is home to more than 1,000 retailers, with the likes of David Jones, Tiffany & CO, lululemon, Pandora, The Body Shop, Apple, Swarovski, Sephora, Ted Baker, Levi Jeans, Peter Alexander and Kathmandu.
More than 85 percent of tourists spend time discovering the Rundle Mall, which plays host to 24 million annual guests. (rundlemall.com.au)
The Centre is split over 3 key levels, David Jones occupies an additional 2 levels accessible only by David Jones. More than 1,200 parking bays provide direct access into David Jones.
Total GLA is 27,800 sqm, comprising over 40 specialties, and over 430 seats in the Lower Ground luxury dining precinct.
Dual entrances from Rundle Mall and the North Terrace precinct allow the direct connection into key attractions positioned parallel to the Centre on North Terrace;

State Art Gallery – attracts more than 780,000 visitors annually
South Australia Museum – attracts more than 784,000 visitors annually
State Library – attracts more than 634,000 annually
Adelaide Festival Centre - attracts more than 828,475 attendees annually
University of Adelaide - Total of 27,000 staff and students
University of South Australia (East Campus) - Total 5,000 students

Adelaide Central Plaza is home to Australia's premier flagship department store David Jones in South Australia with an extensive brand portfolio of international and Australian designers including many exclusive to the Centre David Jones.
The Centre is home to Tiffany & CO., the only international luxury retailer in South Australia.
The North Terrace Adelaide Train Station is only 400 metre walk to the centre, with a total of 6 main lines, servicing thousands of passengers daily.
North Terrace is home to seven bus stops, including a Free City Connector loop bus, weekly transporting 1000's of commuters to the precinct.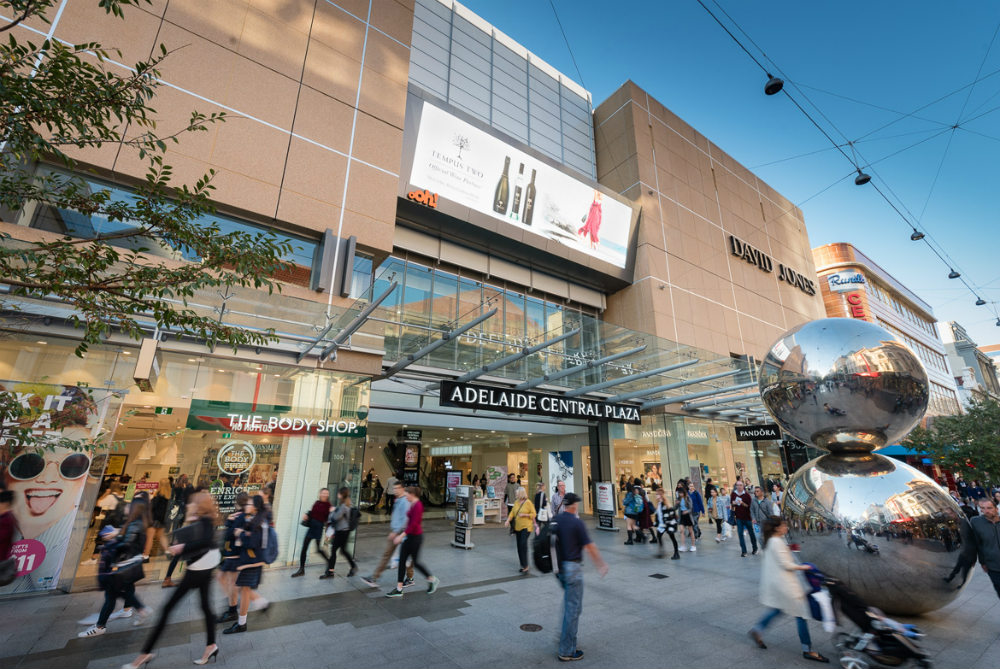 WHY CHOOSE ADELAIDE?
Since 2019 the city landscape has undergone remarkable renaissance with billions of dollars committed to transforming the facilities, infrastructure and plans to increase tourism and CBD residential capacity.
Only 250m from Adelaide Central Plaza, the South Australian Government has invested $1.1B into the redevelopment of the old Royal Adelaide Hospital site. This site is now home to Google, Amazon, Microsoft, The Space Agency and many more innovative companies. The CBD is experiencing an ongoing apartment boom with 13 apartment projects open or due to open by the end of 2023. This represents 3,500 new apartments in the centre of Adelaide. This includes a neighbouring North Terrace property which commenced construction in July 2020, once completed in April 2022 it will provide accommodation to 240 students.
There are 8 hotels that have opened or will open in the next three years. The Adelaide Oval hotel 'Oval' (located 800m from the Centre) opened in September 2020, Crowne Plaza (located less than 1KM from the Centre) opened in September 2020, Skycity casino's expanded hotel (located 300 from the Centre) opened in December 2020 and the Sofitel hotel opened (located 900m from the Centre) opened in September 2021. Approved hotel developments include a new Wyndham Hotel (to be located 1km from the Centre), a Micro hotel (located 300m from the Centre), a Hyatt Hotel (500m from the Centre) and a Westin Hotel (located 1KM from the Centre).
In October 2020 a $72M 20 level office building (30,000sqm of office space) at 83 Pirie Street (500m from the Centre) commenced construction. In February 2021 a $450M development (39,000sqm of office space) commenced at 60 King William Street (1.5KM from the Centre) which has been leased to the Government for services including Medicare and Centrelink. The Adelaide City Council $400m redevelopment of the Central Markets, which will include a 35-storey development with a hotel and apartments, is due to commence in early 2022.
Find out more about the approved apartments and developments in the Adelaide CBD here.
Alternatively, click the link below to view the 3D Adelaide Development Activity Tracker (DAT). The DAT is a representation of major development activity in the City of Adelaide and the designated urban corridor zones.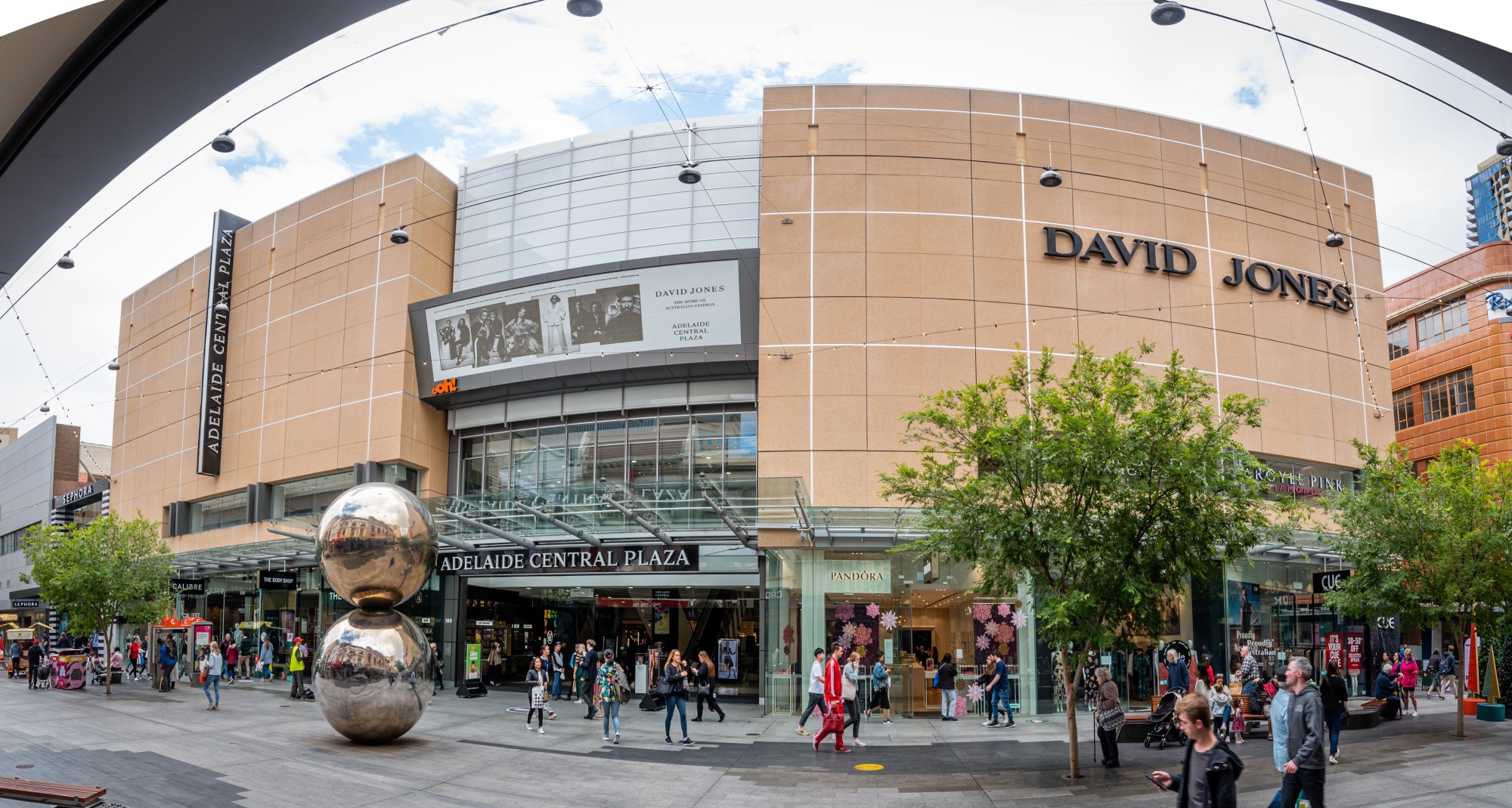 WORKS COMPLETED
In 2021, Precision Group has continued to invest in Adelaide Central Plaza. An extensive refurbishment to the public amenities on the Lower Ground Level were undertaken to enhance customer experience. This compliments the Level One female amenities upgrade in 2020 and the Parents Room upgrade in 2018.
$144.6m
MAT DECEMBER 2019 (inc GST)
Leasing Now
Features
Located in an enviable position on Rundle Mall, between the North Terrace Cultural Precinct and the iconic Malls Balls sculpture and home to David Jones, Tiffany & Co. and over 40 specialty retailers.
Trade Area
There are over 584,000 residents in the main trade area. 184,000 residents in the primary trade area catchment and 101,100 households within an 8 kilometre radius.
 Retail Spend
The Adelaide City Council estimates that the Rundle Mall precinct alone generates an estimated $1 billion of retail turnover each year. Adelaide Central Plaza's MAT is $144.6m.
Customer Demographics
Adelaide Central Plaza attracts the CBD worker, over 30,000 University Students studying in the CBD, Residents and both Domenstic and International Tourists.
Pop up Leasing
A variety of casual mall leasing kiosk sites are available and can be leased on a weekly basis and there is some opportunity for short term Pop Up leasing.
Services
Adelaide Central Plaza offers customers complimentary wifi, state of the art Amenities and Parents Room facilities; Phone Charging Stations and Lost and Found services.